We all had a wonderful Christmas, and it was nice for Jason to be off work for so long to help out while I recovered (from my VBAC!) and settled in with my two girls.
We're all adjusting well to him being back to work now. We definitely have difficult days (especially with the nap fighter- Eleanore), but overall it's going just fine. I'm so thankful I froze so many meals while pregnant, because they're coming in very handy even though I'm currently going dairy-less, as I think dairy is affecting Adelaide.


Adelaide is very different from her sister already. She loves to sleep! Thank goodness for this tired mama. At one month, she's already outgrown all her newborn clothes, her kukae and mimi diapers and a few of her wool pants already.
And speaking of wool, knitting is very slow going these days. I finally finished the handspun longies I started before Adelaide was born.

And I knit up a quick Felicity hat for me.

Now I'm working on a soaker, but it's almost ridiculous how long it's taking me. I hope it's finished while it will still fit Adelaide. Then maybe something new for crazy Kidlet #1. A hat perhaps?

It's belated, but Happy 2011!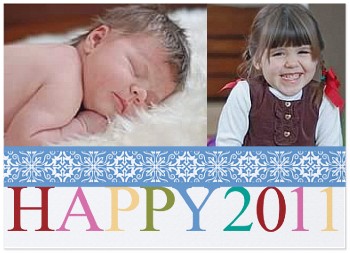 Happy 2011 Damask New Year's 5×7 folded card